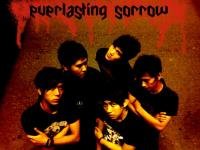 Berawal dari sebuah khayalan semasa kecil, bermimpi menjadi seorang rockstar. everlasting sorrow
berlima adalah teman-teman bermain sejak sekolah menengah.
Masing-masing dari everlasting sorrow memiliki kesenangan akan musik dan
termotivasi dengan melihat band – band terdahulu yang telah sukses atas
karya-karya mereka. Berangkat dari hal tersebut, membentuk lah
sebuah band bernama everlasting sorrow yang beraliran metal.
Saat itu Nemesis masih membawakan karya-karya band luar seperti Underoath, finch, story of the year, dll. Dengan line up : dani
(vocal), abay (guitar), feby (guitar), Rivo (bass), lala
(drum).
Dengan seiring waktu dan problematika perjalanan yang dilalui,
band everlasting sorrow mengalami reformasi dikarenakan kejenuhan dan rutinitas
yang tak dapat ditinggalkan.
Setelah beberapa bulan berselang, salah satu personil everlasting sorrow, rivo
(bass) mengundurkan diri dikarenakan kesibukan akademik di kampus dan
untuk sementara posisi ini diganti oleh rino (bass).
Dengan line-up tersebut everlasting sorrow lebih eksploratif melalui
influence-influence baru seperti Iron Maiden, Metallica, Slayer, In
Flames, Soilwork, Arch Enemy, All That Remains, Trivium, Lamb of God,
Unearth, dan masih banyak lagi cukup memberikan nuansa metal yang
sangat kental.